Three Day Sale of 'Video Camera' iOS App by i4Software [VIDEO]
---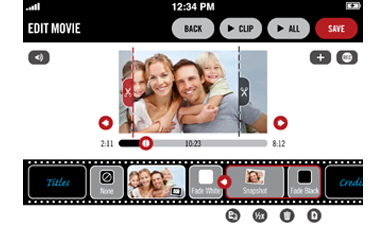 A couple of months ago I reviewed the iOS video camera and video editing app called 'Video Camera by i4Software Vizzywig - Video Editor Movie Maker and Multi Camera Film Edit Effects Slideshow Music Editing Credits App - i4software' (App Store affiliate link) on the Photo Focus channel on Mobli. The app is normally $7.99 (USD) in the Apple App Store. For this Labor Day weekend the developer is having a 3-day sale for it. According to i4Software it is $1.99 on August 31, $2.99 on September 1, $4.99 on September 2, and back to $7.99 on September 3rd (2012).
Originally I had used this app for a few months without using the editing features it offered. I used it specifically just as a video camera app. I shot each clip and then exporting them to the camera roll, later I would edit them all in iMove on the iPhone. The app worked well using my iPhone 4 in my Fostex AR-4i with the app's large red record button it has in its user interface. It also gave me the ability to shoot at a lower resolution than the default camera app (useful when HD isn't required and you're trying to conserve space).
Back in June I started to use the video editing capibilities of the app. Although not as intiuitive as I would like, it does offer some useful editing features for making edited videos quickly.
Since my initial review of it, I had some issues with it while editing videos. As well as the app crashing sometimes. Weird issues as some clips appearing upside down in the finished edited piece (rare, but it happened). So for this reason, I will bring down my initial rating of 4.5 or 5 out of 5 to more like simply 4 out of 5. I still use it the app, though I am a bit more cautious with it.
See the videos below. The first is my initial review of it (it's not my best video review as I was being distracted making it). Although I shot the review using the app, it was edited with iMovie. There is another video of a feast which was entirely shot and edited using the app which is also embedded below.
Note: Link to Apple's App Store is an affiliate link.