Dalek
---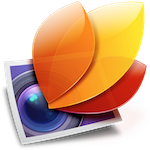 Simple, quick, and easy iOS-like photo editing comes to the Mac desktop with the new application, Flare - The Iconfactory (UPDATE: Flare 2 - The Iconfactory has replaced Flare now).
Since the introduction of third-party apps to the iPhone (now the iOS platform), one of the many genres of apps that have flourished are photo editing apps. Not surprising when you consider that the iPhone comes equipped with a built-in digital camera. A camera that at least with the iPhone has been getting better and better with each new model. While there have been some full featured, complex photo editing apps released for the iOS over the years, for the most part, they have been clean and simple to use due to the inherit design and use of the iOS mobile platform.
"Life depends on change, and renewal."
Outpost Gallifrey Presents:
Doctor Who: Podshock - Episode 155
Running Time: 1:32:48
Review of the first Patrick Troughton story, Power of the Daleks, news, Mike Doran joins us for a Who Party 14 Toronto Report, and feedback including a review of Prisoner of the Daleks by Dave (Skaroth), and feedback (Jordan, Steve Lee, Samantha (Romana II), and Companion2B (Sarah)).
The Sonic Newsdriver 20090404
Selected Doctor Who related news delivered sonically.
For Earth-date: Saturday the 4th of April 2009
In this episode: Dalek Going Once - Going Twice…, John Barrowman Is The Doctor, New K9 Trailer Debuts, Will the Real K9 Please Stand Up…, And Russell T Davies Instructed the Doctor to Build an Arc, No Tennant for Manning, and Tate to Take Hollywood.
The Sonic Newsdriver 20090310
Selected Doctor Who related news delivered sonically.
For Earth-date: Tuesday the 10th of March 2009
In this episode: Change my Dear and it Appears Not a Moment Too Soon, Once Upon a Time Lord, Dalek Pond Scum, I Want My HDTV, Tennant the Red-Nose Time Lord, Vortex Magazine, and Gardner Coming to America.