You are hereChristopher Eccleston
Christopher Eccleston
---
"Before I go, I just want to tell you: You were fantastic. Absolutely fantastic. And do you know what?… So was I!"
Doctor Who: Podshock - Episode 182
Running Time: 1:59:23
The Parting of the Ways reviewed (again), Gallifrey 21 Update, news, and more.
"This song is ending. But the story never ends."
Doctor Who: Podshock - Episode 179 EXTRA Edition
Running Time: 1:40:21
We review all 10 Doctor's eras of Doctor Who in this Deca-Doctor Special of Doctor Who: Podshock. As we approach the new 11th Doctor era, we review where we came from with the previous 10. Included are interviews we conducted over the years with various actors to play the Doctor (including Patrick Troughton, Jon Pertwee, Peter Davison, Colin Baker, Sylvester McCoy, Paul McGann), some of which have never been featured on Doctor Who: Podshock before.
"Come back to bed... Master"
Outpost Gallifrey Presents:
Doctor Who: Podshock - Episode 150
Running Time: 0:59:20
Eliza Roberts interviewed (speaking of her role in the 1996 movie along with Eric Roberts and his recent work with Christopher Eccleston), news, announcements, special communique from Starship Sofa, and more.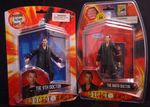 Comparing 9th Doctor Figures: Right: San Diego Comic Con exclusive, Left: less posable figure
If you are like me, you may be wondering just what are the differences between the two figures available depicting the 9th Doctor (as portrayed by Christopher Eccleston) from the Character Options (and Underground Toys) Doctor Who line up.
As much as I would love to collect all the wonderfully detailed Doctor Who figures coming from Character Options these days, I just can't afford to do so nor do I have the space for them all. But there are some that I do want, chiefly all the Doctors and some of the classic adversaries. When it came time to get a 9th Doctor figure, I realized I had two choices available to me, but there was very little information on just what are the difference between the two outside that of the color of the Doctor's jumper.
The Sonic Newsdriver 20090408
Selected Doctor Who related news delivered sonically.
For Earth-date: Wednesday the 8th of April 2009
In this episode: Welcome my son to the Machination, No one would have believed, Best Scottish Voice, Torchwood Series 2 Comes to Blu-ray, Wilf Power, Return of the Jessica, A Doll's House - Not Dollhouse, Doctor Who: Podshock Best Podcast, Bring Out Your Dead for DWNY.